To Our Valued Patients,
As of August 25, 2020, Governor Ige has indicated in his recent press release that we all need to be more careful, and he did implement a two-week "stay at home" order and restrictions on non-essential businesses and social activities to help curb the spread of the virus. Our dental practice is not affected because we are considered an essential health care service.
Your safety, your protection, and your health are our primary concerns, even more so now. We understand and deeply respect that you may be worried, so I want to assure you that our office has even further heightened our already rigid sterilization safeguards, office cleaning standards, and personal protective equipment to keep you safe.
Our standards follow what the ADA (American Dental Association), the CDC (Centers for Disease Control and Prevention), and the State of Hawaii recommend. These are things we take extremely seriously.
Here are the extra precautions we're taking to ensure your safety: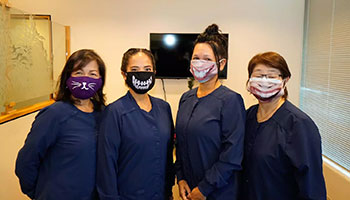 Wearing additional appropriate protective apparel, similar to hospital-grade.
High-quality N95 masks and face shields.
Wearing double masks whenever a procedure is being done.
High-quality gloves, changed multiple times for each patient.
Plexiglass barriers in the reception room and conference room.
Screening patients on the phone so that high-risk patients or those with flu-like symptoms stay at home.
Additional, more detailed, screening questions at the office.
Measuring the temperature of all patients and staff members before going further into the office.
The best technology in the world: HEPA air quality filters in the reception area and all the treatment rooms. (Our reception room has the same high-quality HEPA air filters that were actually used in the hospitals in Wuhan, China.)
Having patients do a pre-treatment mouth rinse with an anti-viral mouthwash.
Limited operations: only a minimum number of patients will be in the office at a time.
Disinfection of the work area between all procedures.
Disinfection of all common areas every 30 minutes (16 times per day) with the most effective but safe non-toxic product, (Hypochlorous Acid). It is 50 times more effective than Clorox but safe enough to wash baby bottles.
Fogging the entire office with a high-quality disinfectant at the end of each day. Foggers produce micro-droplets that float in the air for several minutes and can reach all the most inaccessible parts of a room where regular cleaning or spraying can't reach.
Ultra-high-volume suction devices in hygiene to remove aerosol spray. Hand scaling as much as possible.
Portable UV light disinfection as needed.
Ultra-high-volume suction to quickly and safely remove aerosols generated by any procedure in all treatment rooms.
New dedicated staff hired whose primary duty is to help patients fill out the health screening questionnaire, taking patients' temperatures, and sanitizing and disinfecting all common areas and any treatment rooms as needed throughout the entire day to ensure maximum cleanliness, and for your safety. She is also highly trained and works closely with the staff in sterilization and disinfection of all instruments.
We love what we do and the people we help, and we are always here to help you and keep you safe.
Dr. David Miyasaki
Dr. Wilfred Miyasaki