Receive Outstanding Care At A Downtown Dental Group In Honolulu
Dr. Wilfred Miyasaki has been practicing dentistry in downtown Honolulu, Waikiki, Oahu, and Makiki for more than three decades. During that time, he has built lasting relationships with his patients. At A Downtown Dental Group in Honolulu, we: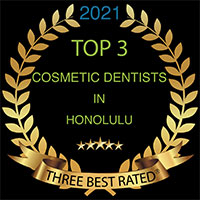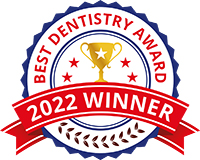 Treat every patient like family
Provide excellent care in a relaxed setting
Help you build a healthy, confident smile for life
Provide many ways for you to save money, including in-house financing
Soothe nervous patients with two kinds of sedation
Create durable and beautiful dental restorations in an in-house lab
Offer special services for seniors and military personnel and veterans
A Downtown Dental Group has been recognized time and time again for our outstanding service to our outstanding patients. We are grateful to have received several prestigious awards, such as Honolulu Magazine's Best Dentist award, Talk of the Town's Outstanding Patient Relations award, one of the top 20 Honolulu dentists selected by Expertise, one of the top three cosmetic dentists in Honolulu by ThreeBest Rated®, The Best Dentistry Award for 2022, and The Talk Award Winner for 2022. Call us at 808-797-3680 today to experience this outstanding care for yourself.
If you're a new patient, you may qualify for a $49 exam and consultation. You can also take advantage of free consultations and second opinions.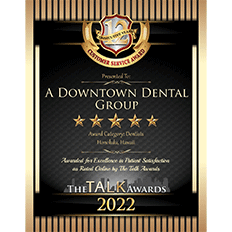 Trust A Caring Team That Gives Back To Honolulu
Something that brings us great joy is to work alongside the American Academy of Cosmetic Dentistry's Give Back a Smile program. We have been involved in this organization for years.
Domestic abuse is an unfortunate problem in Honolulu and across the United States. Here at A Downtown Dental Group, we have partnered with the AACD's Give Back a Smile program to do our part to fight back against domestic abuse. The Give Back a Smile program works to treat women and men afflicted with dental aftereffects from domestic or sexual abuse. Give Back a Smile and A Downtown Dental Group work to replace any of the front eight teeth that went missing at the hands of a domestic partner or spouse.
We have also participated for over a decade in Smiles for Life. During the months of March, April, May, and June, we team with Smiles for Life to ensure that every dollar we make from teeth whitening goes to aid seriously ill, disabled, and underprivileged children. Our commitment to groups like Smiles for Life demonstrates our loyalty not only to charitable organizations but also to our patients.
Dr. Miyasaki and our team want what is best for you. We will do everything within our power to make sure that you feel like a part of A Downtown Dental Group's family. In the end, we want what is best for the entire Honolulu community, and we will continue to make the sacrifices that need to be made to keep smiles on our patients' faces.
Give A Downtown Dental Group in Honolulu a call at 808-797-3680, and set up an appointment with our team. We can't wait to see you!